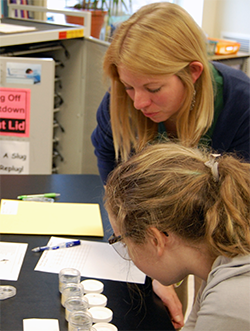 The Vermont Institute of Natural Science is hosting an exciting research symposium on Monday, May 15, from 10 am to 2 pm. The Science Symposium is designed for students, peers, teachers, parents, and other community members as well as representatives from various local and state environmental agencies. Throughout the year, VINS Science Educators have worked with several local middle schools, whose students will share their scientific research findings on important issues facing their communities and the world as a whole.
Celia Chen, Ph.D., Research Professor of Biological Sciences at Dartmouth College, will be the keynote speaker at the event. She will share her own experiences in research and offer advice and inspiration to budding scientists.
During the spring of the 2016-2017 school year, six-grade students from Lebanon Middle School, Lebanon, NH, researched topics of local concern that could be found in their own "backyard." Students discovered that chemicals we use everyday, such as sunscreen, can cause an impact on local ecosystems. They were guided through each step of the scientific process and, ultimately, the young researchers created and implemented solutions to reduce environmental impacts in their community. 
Participating six-grade students from the Newton School, Strafford, VT, designed and researched a variety of topics ranging from magnetic cars that prevent automobile accidents to the environmental concerns causing decreasing population numbers of Catamounts in Vermont. Each student selected their own topic based upon interest and investigated the issue through the scientific process.
Seventh-grade students from Riverside Middle School, Springfield, VT, focused on erosion and weathering issues throughout their community. Each group of students selected an area of concern, and through the scientific process developed solutions to help lessen the amount of erosion or weathering occurring. Many students were able to find personal connections to the erosion problems happening within their community and are eager to start helping to fix the issues before they get worse.
Fashioned as the capstone of the middle-school component of VINS School Programs, VINS' Science Symposium showcases the final products of students' work during the course of the school year. VINS Science Educators help students define a community problem within the symposium area of focus, assist with locating resources, and support teachers through direct student instruction. In addition, the Science Educators partner with teachers to incorporate the Science Symposium into their science curriculum, and they act as a resource for teachers in place-based learning and integration of the NGSS science standards.
This year, all participants will be able to engage in hands-on learning opportunities with our Spring Science Symposium partners: Black River Action Team, Hanover Conservancy, Sullivan County Conservation District, Vermont Energy Education Program, and White River Partnership as well as other activities run by the VINS onsite educators. In addition, a Raptor Program will take place from 11:00 am to 11:30 am.
For information about VINS and the variety of exhibits, programs, and environmental education opportunities offered, please visit our website at 
vinsweb.org
 or call 802.359.5000. Stay connected with VINS through our nature blog at 
vtnature.blogspot.com
 and our Facebook page.
The Nature Center at the Vermont Institute of Natural Science has been awarded the Trip Advisor 2014 Certificate of Excellence and was voted Best Nature Experience in Yankee Magazine's Editor's Choice Best of New England 2017.
The Vermont Institute of Natural Science (VINS) is a nonprofit, member-supported, environmental education, avian rehabilitation, and research organization headquartered at the VINS Nature Center in Quechee, Vermont. VINS' mission is to motivate individuals and communities to care for the environment through education, research, and avian wildlife rehabilitation. Open year-round, the 47-acre campus, adjacent to Quechee Gorge, features state-of-the-art raptor enclosures, exhibit spaces, interpretive nature trails, onsite educational programs and the Center for Wild Bird Rehabilitation. Through the Center for Environmental Education, VINS provides high-quality, relevant, hands-on inquiry science and place-based learning opportunities for students and teachers throughout the region.