December 19, 2016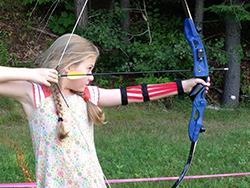 Quechee, VT  –
 The Vermont Institute of Natural Science (VINS) 2017 Summer Nature Camp schedule is now online and open for registration. With limited openings, planning ahead is the best way to ensure a place for your children in these fun and educational programs in which they'll have a chance to spend a week immersed in hands-on nature adventures. VINS also returns this season with its week-long overnight camps at Old Pepper Place Nature Reserve in Washington, VT. VINS will offer Survival Adventures II and Field Study Expedition in addition to a Natural Leaders camp--new this year!
Half-day camps for children in pre-kindergarten are available at ArtisTree Community Arts Center and Gallery in South Pomfret, VT. Day camps for children entering grades First through Eighth are available at VINS Nature Center in Quechee, VT and Storrs Pond Recreation Area in Hanover, NH. All sessions will provide campers with the opportunity to explore nature through engaging, interactive activities and outdoor investigations.
Many camp sessions, such as those listed below, will fill quickly, so sign up early to secure enrollment for your children:
Survival Adventures provides a great opportunity for young outdoor enthusiasts to build proficiency in basic self-reliance and teamwork skills in a fun environment.
Woodland Scouts investigate the wonders of the woods through exciting themed activities as well as games, stories, and more. 
Advanced SOAR gives campers the opportunity to delve deeply into the world of raptors, a special camp theme only available at VINS Nature Center. 
Natural History Mysteries fill the day with diverse themes, eco-quests, and scavenger hunts through the forest--campers will become nature detectives and solve a natural history mystery every day.
And through swimming, play, and nature discovery, campers in Water, Water Everywhere will explore a variety of wetland habitats and learn how plants and animals have adapted to a world where water truly is everywhere.
VINS' 2017 Overnight Nature Camps, for middle-school-aged youth, include Field Expedition: Ecology of Old Pepper Place Nature Reserve, which offers campers the opportunity to engage in a week of field-based, collaborative learning while making their home in the wilderness; the Survival Adventures II course in which campers face daily survival scenarios, experience lessons in outdoor living skills and activities that explore human interaction with nature; and the new Natural Leaders camp, which will introduce campers to the skills necessary for traveling in the wilderness as well as to the responsibilities of back-country leadership.
VINS believes all children should have the opportunity to experience VINS Nature Camp, and therefore provides camp scholarships to families in need of support. If you would like your children to experience the joy of outdoor exploration and discovery that VINS' camp programs offer, but the cost does not accommodate your budget, please inquire about these discounts. Scholarships for the 2017 camp season have been made possible through the generosity of the Horne Family Foundation, The Donley Foundation, and Seventh Generation Foundation.
For information about VINS Nature Camps and the variety of exhibits, programs, and environmental education opportunities offered, please visit our website at 
vinsweb.org
 or call 802.359.5000. Stay connected with VINS through our nature blog at 
vtnature.blogspot.com
 and our Facebook page.
The Nature Center at the Vermont Institute of Natural Science has been awarded the Trip Advisor 2014 Certificate of Excellence and was voted Best Bird Exhibits in Yankee Magazine's Editor's Choice Best of New England 2014.
The Vermont Institute of Natural Science (VINS) is a nonprofit, member-supported, environmental education, avian rehabilitation, and research organization headquartered at the VINS Nature Center in Quechee, Vermont. VINS' mission is to motivate individuals and communities to care for the environment through education, research, and avian wildlife rehabilitation. Open year-round, the 47-acre campus, adjacent to Quechee Gorge, features state-of-the-art raptor enclosures, exhibit spaces, interpretive nature trails, onsite educational programs and the Center for Wild Bird Rehabilitation. Through the Center for Environmental Education, VINS provides high-quality, relevant, hands-on inquiry science and place-based learning opportunities for students and teachers throughout the region.